Service Area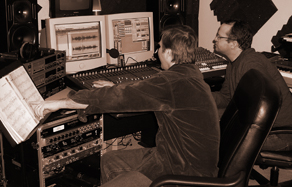 Recording and sound reinforcement services provided throughout the Front Range area.
Services
Services
Remote Recording
We specialize in the remote recording of live performances, offering multi-track recordings. Location multitrack recordings up to 28 channels are available.

Service Area Includes: Boulder, Longmont, Denver, Fort Collins, Louisville, Lafayette, Erie, Frederick, Firestone, Front Range, Greeley, Loveland, Berthoud, Lyons, Arvada, Broomfield, Westminster, Thorton, Lakewood
Video
Live event services include multi-camera HD video concert filming, digital editing, color correction, and audio sync.
Preserve old video footage with transfers to HD video file, Blu-ray or DVD. Formats include: Blu-ray, VHS, S-VHS, VHSC, Sony 8mm, Hi8, Digital8, Mini-DV, and DVD.
Recording Studio
The studio consists of a main recording room with hardwood floors and a lively acoustic, a secondary recording room and a control room.

CD Duplication
Short-run duplication of Compact Discs is available (1-300 discs). Liner notes and CD labeling services are available for all media.
Mastering
Mastering is available for digital audio, analog cassette, LP, 1/4" 2-track analog, MasterLink CD24, WAV or AIF files on CD, DVD, or USB/eSATA/Firewire drive. We use a variety of analog and/or digital processes to enhance or restore your recording and compile them into a playlist to create a master.
Restoration
Restoration is available for analog recordings made on 1/4" 2-track, LP or cassette. Mastering suite restoration tools are workstation based, using the latest technology from Waves, Sonnox, TC Electronic, and ProTools.
Live Sound Reinforcement
Live sound reinforcement is available for small, medium, and large sized performance venues. Recording services are available for all live sound reinforcement events. We specialize in sound design/live sound reinforcement for classical music genres such as orchestral, choral, opera, and classical with electronic components.
Graphic Design
Available for packaging, websites and other collateral. See our portfolio at www.GetGreatDesign.com
Performance Venues
Selected Front Range performance venues where Michael Quam has provided recording and/or sound reinforcement services
KVOD Performance Studio, Centennial
Boettcher Concert Hall, DPA Complex, Denver
Ellie Caulkins Opera House, Denver
Chautauqua Auditorium, Boulder
Newman Center for the Performing Arts
Gates Concert Hall, Denver University
Chautauqua Community House, Boulder
Kenneth King Performing Arts Center, Denver
Denver Art Musuem
E-Town Hall, Boulder Colorado
Lincoln Center, Fort Collins
Griffin Hall, Colorado St. University, Fort Collins
Stanley Hotel Concert Hall, Estes Park
Macky Auditorium, CU Campus, Boulder
Grusin Hall, CU Campus, Boulder Colorado
Old Main, CU Campus, Boulder Colorado
Glenn Miller Ballroom, CU, Boulder Colorado
Cofrin Auditorium, CU Campus, Boulder
Broomfield Auditorium, Broomfield Colorado
Broomfield Amphitheater, Broomfield
Fine Arts Center Concert Hall, University of WY
Lakewood Cultural Center, Lakewood Colorado
PACE Center, Parker Colorado
D.L. Parsons Theatre, Northglenn Colorado
Pinnacle Performing Arts Complex, Denver
Founder's Hall, RMCMA, Lafayette Colorado
Grime's Hall, RMCMA, Lafayette Colorado
Dairy Center for the Arts, Boulder Colorado
Rembrandt Yard Art Gallery, Boulder Colorado
Boulder Public Library Auditorium, Boulder
McNichols Building, Denver
Brighton Armory, Brighton
Lafayette Plaza, Lafayette Colorado
Elich Gardens, Denver Colorado
Boulder Band Shell, Boulder Colorado
Kim Robards Dance, Denver
Velodrome, Lafayette Colorado
Millennium Harvest House, Boulder
Bethany Lutheran Church, Englewood
Saint John's Cathedral, Denver Colorado
St. Paul Lutheran, Denver Colorado
Montview Boulevard Presbyterian Church
Trinity Church, Denver Colorado
First United Methodist Church, Boulder
University Park United Methodist, Denver
First Universalist Church, Denver Colorado
St. Andrew's Episcopal Church , Denver

Wellshire Presbyterian Church, Denver
Augustana Lutheran, Denver
Central Presbyterian Church, Denver
Pine Street Church, Boulder Colorado
Epiphany Episcopal, Denver
Trinity Presbyterian Church, Arvada, Colorado
Trinity Lutheran Church, Fort Collins Colorado
Rocky Mountain Presbyterian, Westminster
First Congregational Church, Boulder
Grace Lutheran Church, Boulder Colorado
First Baptist Church, Boulder Colorado
Mountain View Methodist Church, Boulder
Bahá'í Center of Metro Denver
Rocky Mountain Christian Church, Niwot
Broomfield United Church, Broomfield
Mountain View Baptist Church, Lafayette
St. John's Episcopal Church, Boulder Colorado
Kingdom Hall, Westminster Colorado
Jefferson Unitarian Church, Golden Colorado
Green Mountain United Methodist Church, Lakewood
St. Andrew United Methodist, Highlands Ranch

South Suburban Christian Church, Denver
The Academy, Boulder Colorado
Denver School of Arts
Boulder High School Auditorium, Boulder
Fairview High School, Boulder
Platt Middle School, Boulder Colorado
Estes Park High School Auditorium, Estes Park
Aspen Academy, Greenwood Village
Cherry Creek High School, Greenwood Village
Broomfield High School Auditorium, Broomfield
Casey Middle School, Boulder Colorado
Southern Hills Middle School, Boulder Colorado
Manhattan School of the Arts and Academics, Boulder
Now Playing